Company • 3m
Announcing Moov's $45M Series B funding
When I started in fintech, it wasn't commonly called fintech yet. We just called it financial services back then. In that previous life, I spent a lot of time connecting to processors, and a lot of banking cores—42 of them, if I remember right. And all those hours working on integrations got me wondering, "How do you build a modern payment stack?"
Thus, the inception of Moov.
With the right infrastructure, we knew money movement could be simpler. In 2017, we started an open source library and amassed a community to help developers learn how to build and integrate payments into their products. From there, we started building our full-stack approach to powering payments.
And as it turns out, other people believed in our vision. By October 2020, we received a $5.5 million seed round. And before the end of the year, we were able to announce our $27 million Series A round of funding.
We've come a long way since then.
With the support of our investors and an impressive team, we've built integrations to all the essential payment rails, including every major card brand, The Clearing House, and the Fed. We've even become a net new US-licensed Acquiring Processor, Issuer, and Program Manager—which is an incredible team accomplishment in two and a half years.
To boil it down, our cloud-native API and consolidated approach to acquiring, ledgering, issuing, and disbursements is progress against that mission of, "How do you build a modern payment stack?" We're creating a simpler way to meet the current and future needs of companies looking to create modern commerce experiences.
All of this—not to mention our global win of the Visa Everywhere Initiative in 2021— helped validate we're on the right track. It is with extreme gratitude that we announce our $45M Series B funding led by Commerce Ventures with participation from Andreessen Horowitz, Bain Capital Ventures (BCV), Visa, and Sorenson Ventures.
We couldn't be happier to have this support because, while we've done a lot in a short time, our journey has just begun. This new round of capital will help us refine our platform, address new payments use cases, and scale everything we've built so far. We're a small and mighty team, so we're looking forward to onboarding even more talented people (and, yes, we are definitely hiring developers). If you're interested in joining our team, Moov's recently received recognition as a startup to watch and made multiple best places to work lists.
In addition to enhancing our platform, we'll continue focusing on our community of builders. In 2021, we set out to create fintech_devcon, the flagship event for fintech developers. The event brings together the brightest builders across the fintech ecosystem in order to democratize the once-walled gardens of payments, compliance, finance, and more. We've recently announced our third annual fintech_devcon in Austin, Texas and we hope you'll join us August 23-25 as we share fintech-building deep dives, how-tos, shortcuts, fixes, best practices, and wild ideas. The first 100 developers to buy tickets get a special price, so don't miss out!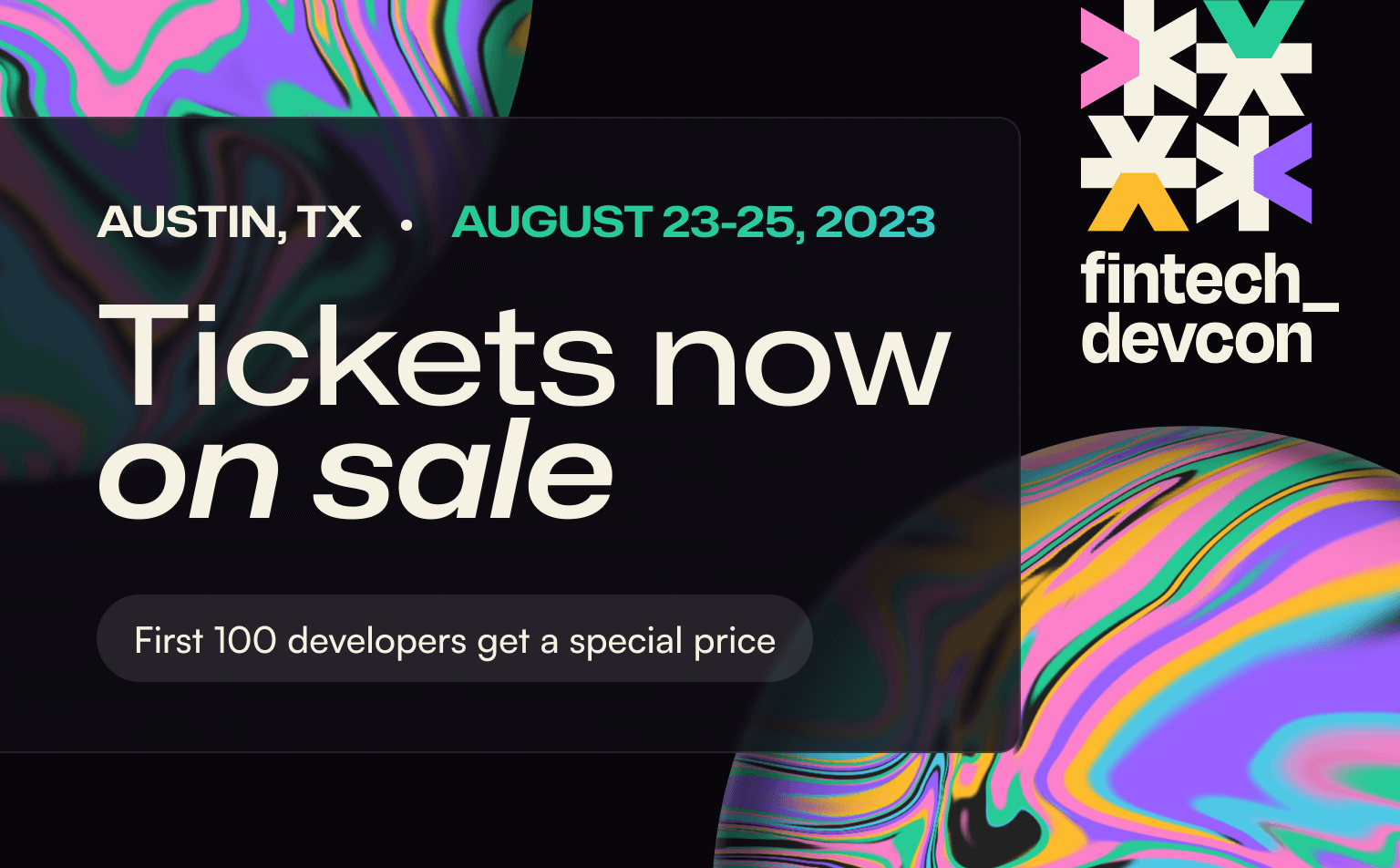 From the bottom of my heart, I want to thank our amazing community, partners, friends, and supporters. And, on behalf of the whole Moov team, a giant thanks to our investors who have supported us throughout our journey so far.
If you want to keep up with where we're going, sign up for our newsletter. I also recommend you join our Slack community and follow us on Twitter and LinkedIn.