Company • 3m
Meet with Moov at Money20/20
We get it—planning your time at Money20/20 is like building a Disneyland itinerary; so many fintech attractions but so little time. If you're looking for an all-in-one payments platform, consider this a FastPass in helping you decide if you should meet with our team.
You want to accept, store, and disburse money all from one API.
If you want to add the ability to accept, store, and disburse funds into your product, here's why you should consider meeting with Moov:
We're an all-in-one modern Acquirer Processor, Issuer Processor, program manager, and ledger/wallet. Our platform can get you up and running with direct connections to all the major payment rails. That means faster time to market, better user experiences, and complete freedom to grow (and monetize!) your money movement capabilities.

We provide the latest payment technology while handling onboarding, licensing, and compliance. You get automated workflows, a robust admin dashboard, API-enabled features, and drop-in web components to make the experience easier for your developers and more elegant for your users. That means you spend less time decoding payments and more time building your brand.
You're a software company that wants to do great things with your product.
It's simple. We power infinite payment use cases with full data transparency. Because Moov is built as an end-to-end money movement platform, we can power your unique use case at any scale.
Schedule time with us.
We have a swanky hospitality suite (#3-322) in the Venetian Parlor, and it will be full of our payment experts and exclusive Moov swag only available at Money20/20. Our team members know the industry inside and out, and we'll gladly talk to you about card processing, program management, reporting, ledgering, reconciliation, back-end dashboards, onboarding, compliance (KYC/KYB), virtual cards, PayFacs, and more.
Plus, there will be delicious food and drinks. To request a meeting with our team, please follow the link below.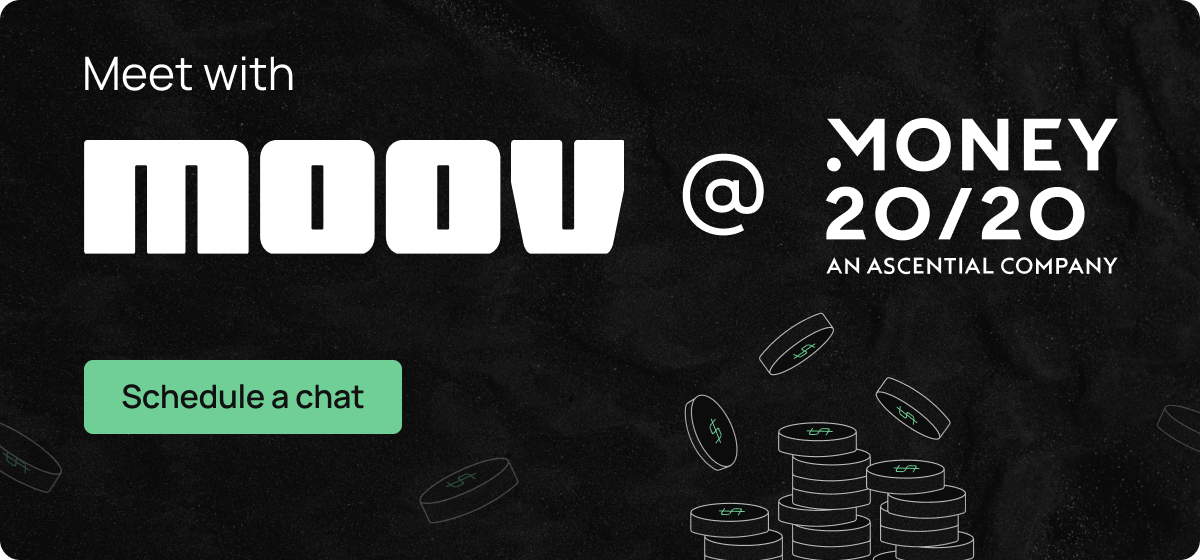 Check out our sessions.
This panel discussion dives into the world of payments innovation and addresses those burning global fintech questions that everyone wants to know the answer to. Hosted by David Brear and joined by Kristen Anderson and our CEO and Co-founder, Wade Arnold.
When: Monday, Oct 24, 2:05pm - 3:05pm
Where: MoneyPot Podcast Booth, Expo Hall, Level 2
Hear Asya Bradley and our Head of Ecosystem, Jared Jones, discuss ways to change how fintech companies are built from the ground up. (This session is only available to RiseUp/Amplify members.)
When: Tuesday, Oct 25, 10:10am - 10:40am
Where: Do Better Together, Venetian Ballroom, Level 2
Ginny Chappell, our EVP of Product Marketing, joins Governor Chris Waller of the Federal Reserve Board for an in-depth 1:1 discussing digital innovations, payments evolution, and the future of the U.S. financial landscape.
When: Tuesday, Oct 25, 10:55am - 11:15am
Where: Showtime, Expo Hall, Level 2
How are developers bringing about the next era of payments? Hear Wade Arnold, Christina Bechhold Russ & Ilya Gaysinskiy share how to build a developer experience that accelerates payments modernization.
When: Tuesday, Oct 25, 2:00pm - 2:30pm
Where: Build Bold Stage, Expo Hall, Level 2
Let's connect.
If you have any questions, shoot us an email at [email protected]. We're thrilled to see everyone in Las Vegas and hope to meet with you in person.